Meet Our Team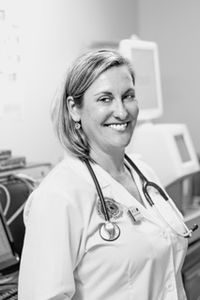 Jennifer Bruner
DVM
Dr. Bruner is a native of the Kansas City area. She attended The Pembroke Hill School and The University of Kansas graduating with a Bachelor of Arts in Biology in 1991. She pursued her doctorate in veterinary medicine at Kansas State University in Manhattan, Kansas and graduated in 1997. After graduating, she worked at Animal Medical Hospital in Charlotte, North Carolina and then spent 6 years as an associate veterinarian at Picture Hills Pet Hospital in Kansas City, Missouri. Wanting to pursue her dream of practice ownership, she moved her family to Lansing to take over Lansing Veterinary Hospital. Dr. Bruner serves on the board of the Leavenworth County Humane Society and is a member of the AVMA, KCVMA and KVMA. Dr. Bruner has 2 human, 3 canine, and 4 feline children. In her free time she enjoys rooting for the Kansas Jayhawks and traveling.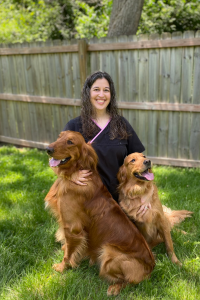 Kimberly Kessler
DVM
Dr. Kessler is a native of Olathe, KS, where she attended Olathe East High School. She graduated from Kansas State University with a Bachelor of Science in Biology and Physical Science in 1999. She pursued her doctorate of veterinary medicine at Ross University and graduated in 2003. After graduating, Dr. Kessler worked as a full-time associate until starting a family. When Dr. Kessler is not working, she enjoys spending time with her family and scrapbooking.
Pictured with Patton and Liberty.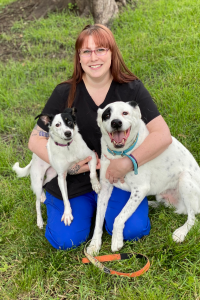 Alanda Fowler
Veterinary Technician
Bio coming soon!
Pictured with Skipper and Voodoo.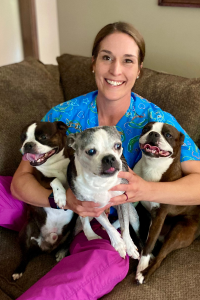 Kendall Guenther
Veterinary Assistant
Kendall has been with us since 1999. She is a 2001 graduate of Lansing High School. Kendall assists in surgery, helps with clients and their pets, and handles the care of hospitalized and boarding pets. Kendall has three Boston Terriers.
Pictured with Handsome, Stewie, Meatball.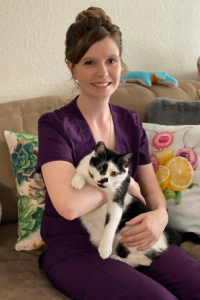 Amanda Laursen
Veterinary Assistant, Receptionist
Amanda joined the staff in 2002. She is a 2002 graduate of Leavenworth High School. Amanda manages the front desk and assists the doctors in surgery and in the exam rooms. Amanda has a cat named Sevro.
Pictured with Sevro.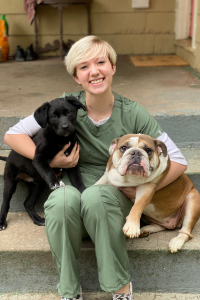 Mackenzie Fagan
Receptionist
MacKenzie joined the staff in April 2021. She began as a kennel attendant and is now our second receptionist and assists doctors in the exam room. MacKenzie is originally from Indiana, but is now stationed here with her husband.
Pictured with Cammie and Ash.
Jensen Taggs
Veronica Dill
Taylor Lawson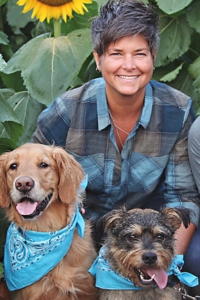 Amy Bond
Manager
Amy Bond is a native of the Kansas City area, attending high school in Weston, Mo. She graduated college at University of Central Missouri in 1995. She enjoys volunteering for veterans and animals, traveling with friends, and meeting all dogs. She joined Lansing Veterinary Hospital in 2016.

Pictured with Maya and Roscoe.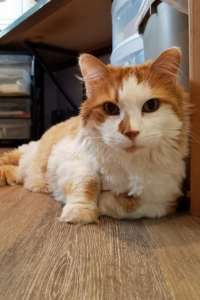 Romeo
Clinic Cat
Romeo has been with us for at least 14 years. He was trapped by a lady in lansing because he was lurking on her property. She was not a fan of cats apparently because she just never came back and left him for us to euthanize. Dr. Bruner didn't like that idea so we kept him. He was semi feral when he first came to us. It took a long time to get him to trust and now he's one of the sweetest cats. You will find him usually hogging the reception chair. He is very snuggly and has one of the loudest purrs. He is a messy boy and can't seem to keep himself clean with all his hair, so we try and keep him trimmed like a lion.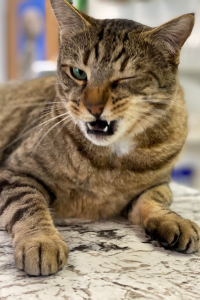 Tito
Romeo's Clinic & Life Partner
Tito was found as a stray in Lansing. At the time, the shelter had no open cages so we made room for him with us. He was with us for 2 weeks and we all fell in love with him. Dr. Bruner made the command decision that we needed another office cat so she opened the cage door and that was that. He and Romeo had a few spats at first but now they are BFFs. Believe it or not, Tito was at his ideal body weight when he was found. Even though he's on a strict diet, he finds ways to over indulge. He tries to steal food from cages, he opens bags of food from the lobby, he thinks he is starving all the time. You will usually find him up front greeting people or laying on the xerox machine. It's exhausting begging for food all the time.